"British trained, BPS Chartered, Counselling and Psychotherapeutic Psychologist (C. Psychol.) and Associate Fellow of the BPS (AFBPsS)
specialising in the psychological treatment of adults. I'm also a 'Checked Expert', listed on the Register of Expert Witnesses."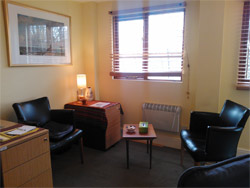 Therapy can be called the soul of psychological work. This consists in applying specialist theoretical knowledge, coupled with professional experience, towards helping one or more individuals. Therapy relies on creating an environment in which exploration of, often painful issues, can take place in safety. Therapy may aim to explore and accept, or have more specific goals such as changing behavioural styles and thinking patterns.
The therapeutic experience is different for each person and as an integrative practitioner I aim to match my interventions to your needs. This I do by using those techniques and modalities that, I believe, will attain our agreed aims in the shortest, most cost effective way.
First trained as an integrative therapist, I have had post qualification specialist training in Cognitive Behavioural Therapy (CBT), Eye Movement De-sensitisation and Reprocessing therapy (EMDR) for PTSD and Dialectical Behaviour Therapy (DBT) for personality disorders.
If you are unsure what therapy you may need, arranging first an assessment session may help you decide whether therapy is right for you as well as what type would be appropriate for you. This does not put you under any obligation to proceed with therapy, but will clarify whether therapy is suitable for your needs.
Fees are:
£90.00 per session (50 minutes).
£75.00 if self funded.
Professional courtesy discount of £40 is offered to psychologists in training.
Therapy services are provided in:
English, French, Spanish, Italian and Hebrew