"British trained, BPS Chartered, Counselling and Psychotherapeutic Psychologist (C. Psychol.) and Associate Fellow of the BPS (AFBPsS)
specialising in the psychological treatment of adults. I'm also a 'Checked Expert', listed on the Register of Expert Witnesses."
Good therapy begins with a sound assessment.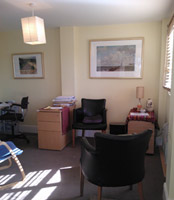 This session is the psychological equivalent of seeing your GP when not sure what is wrong with you, or perhaps having a consultation with a specialist.
During an assessment you have the opportunity to describe your issues, to explain what the things you want to change are and what goals you have in mind. If you don't feel clear about these, don't worry. An assessment is the time and place where skilful questioning helps both sides reach a psychological formulation of your issues and aims.
This formulation comprises a basic understanding of the issues at stake, the background to these and most importantly, what intervention or treatment is called for in order to effect change. In short, by booking an assessment consultation, you will receive a professional opinion and guidance regarding your issues and possible ways towards achieving your goals.
Fees are:
Assessment session and verbal feedback (Up to 90 minutes) £100.00
Assessment session (60 minutes) and standard written report £150.00 (Assessment reports are not a medico-legal psychological report)
Multiple session or extended assessment £80.00 per hour, excluding report preparation.